"Delicious Appetizers"
Chicken Kelaguen:
One of the most popular Chamorro dishes, kelaguin is often served with the main meal but makes a great starter or appetizer.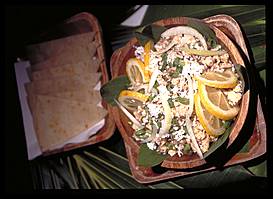 You will need:
" 1 chicken baked or barbequed without spices
" 1 medium coconut grated
" 1 or 2 lemons
" 1 bunch of green onions
" 3 tbsp. crushed red pepper
" salt
Preparation:
Some people use a food processor, but REAL Chamorros wouldn't think of it! Remove skin from chicken and tear meat from bone. Discard bones and skin. Chop chicken into small pieces, almost fine. Place in bowl. Chop green onions, add to chicken mixture. Add coconut. Sprinkle liberally with lemon juice and salt. Add crushed peppers. Continue to season to taste, using salt, additional lemon juice and crushed peppers, so that no one flavor overwhelms the others. Serves four to six. Serve with warm tortillas or try something untraditional, shrimp chips!
Season to taste using salt, and additional lemon juice and crushed peppers. Serve with warm tortillas.
---
Flour Titiyas:
You will need:
" 4 cups of flour
" 1\2 a cup of sugar
" 1\4cup of oil
" 3\4 to 1 cup of milk
Preparation:
Combine all ingredients to make the dough. Separated it into balls depending on the size you want. Get your rolling pin and flatten it. Cook it on a no-stick teflon pan at medium heat until is a little brown.
---
Kadun Manuk Pika (Hot/Spicy Chicken):
"This dish is great for chesa to serve your friends with beer"!
You will need:
" 5 pound stewing chicken (any chicken is good but stewing is preferred!)
" 1/2 cup of white vinegar
" 3/4 cup of Kikkoman Soy Sauce
" 1 whole garlic (chopped)
" 1 whole onion (chopped)
" 20 ripe, hot, red peppers
Preparation:
In a large bowl, mix together soy sauce, vinegar, garlic and onions. Cut chicken into cubes and mix with sauce mixture. Over high heat in a large pot, place chicken, peppers and sauce mixture. Cook for an hour and 30 minutes, occassionally stirring.
If you wish, you may add coconut milk 15 minutes prior to the chicken being done.
---
Beef Kelaguen:
You will need:
" 1 pound flank or rib eye steak, sliced thin
" 2 tsp. fresh green onion, chopped
" 1/4 cup fresh lemon juice
" 4 small red chili pepper (or more)
" 1 tsp. salt.
Preparation:
After slicing the beef, press out as much of the meat juices as possible.
Mix remaining ingredients in a bowl. Chill before serving.
Serve with finadene sauce and tortillas.
"The beef is served raw, but the lemon juice pickles the meat. It's a wonderful satisfying chesa (dish), and is very popular here in the CNMI".
---
Spam Kelaguen:
You will need:
" 1 can of Spam, mashed
" 2 tbsp. of Lemon juice, fresh
" 1/2 of medium - size Onion, diced
" 2 Green onions, diced
"1 1/2 cup of Coconut, grated salt pepper-red pepper
Preparation:
Combine all ingredients in a large bowl and chill thoroughly. Serve with tortillas or crackers. Yields one Serving.
---
Finadeni:(Sauce)
You will need:
No island feast would be complete without finadeni. This terrific sauce used to flavor rice, soups and is excellent for marinating chicken, beef and pork. Make a lot at once and store the extra in a salad dressing carafe for easy use later.
" 1/4 cup soy sauce
" 1/4 cup lemon juice
" 1/4 cup chopped green onions
" 1/2 tsp. crushed red pepper, or
" 3 small red peppers, roasted and chopped
Preparation:
Combine ingredients, and then stir.