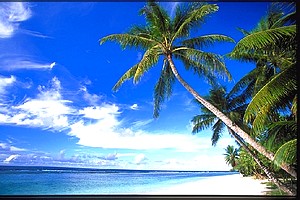 Favorite Chamorro Recipes
... Spiced with Awesome Local Scenery!
Hafa Adai! I am pleased to welcome you to my homepage. Nothing beats the combination of great food and breathtaking scenery. I invite you to try your hands at some of these local favorites. Imagine if you will, enjoying these local favorites while sitting at the beach or being at any of the local scenes. I have provided, all this for your viewing pleasure, but I can't take all the credit. I am grateful for chamorro.com and Larry Lee for some of the most awesome scenes found around Saipan.
View these local favorites and check out the page on appetizers, the page featuring the main courses, and my personal favorite, the page on desserts! Come back to visit in the future, as I fully intend to update this site with more local favorites...
To add to the quality of your visit, I have included a special page featuring the most important people in my life, that's my family page. More is always better, so check out the link to my resume as well. I promise the information is all true! And if you get lost, please refer to my handy sitemap. Well, there you go. I hope you enjoy your tour of my website. Until your next visit, Adios!